Welcome to the July Pinterest Challenge Blog Hop, hosted by My Pinterventures. The purpose of this Pinterest Challenge is to motivate all the participants of this hop (and you too) to not just pin, but to make it happen! This month, I chose to create these fun & easy DIY marbled mugs!
Easy DIY Marbled Mugs
*Affiliate links used to show like or similar products.
I am so excited to be part of this fun blog hop, as I am a very active Pinterest-Pinner and always love to try out what I find on Pinterest. One of my many pins are these cute & easy DIY marbled mugs by DIY Candy.
 I saw this photo and knew I had to make them.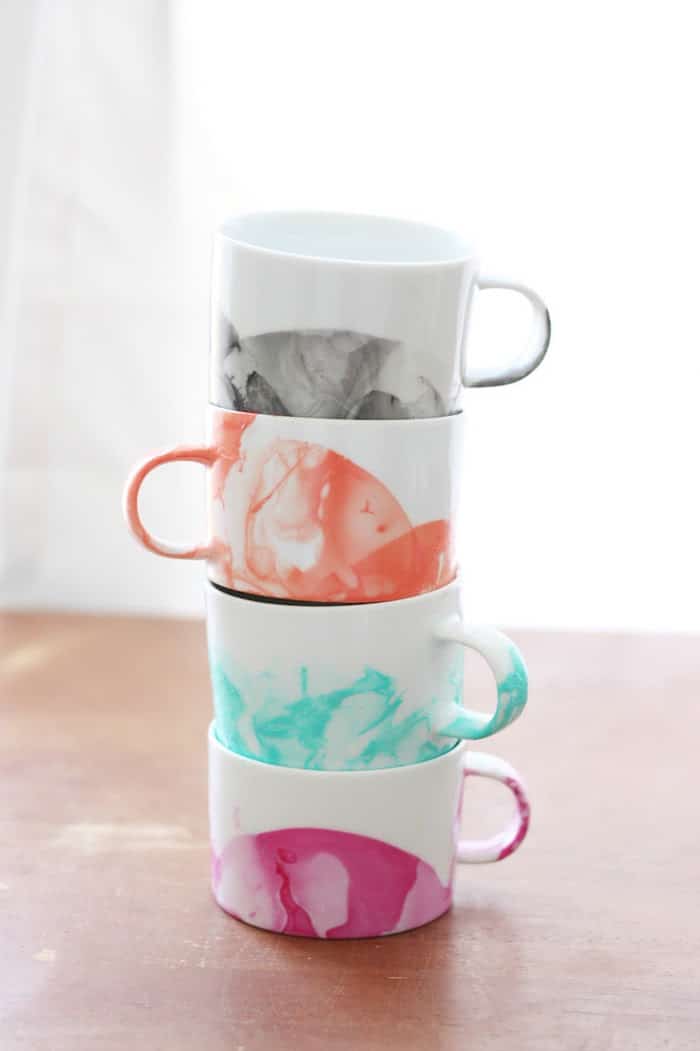 What I have used:
I used these white Ikea mugs and these gray Ikea mugs
blue [for the white mugs] & white [for the gray mugs] nail polish
an old plastic container big enough for the mugs to fit in
paper towels
 bamboo skewer to stir
Hop over to DIY Candy for the tutorial and there is also a great video tutorial in the post, which I followed and worked really well for me.
This is how the 4 white mugs turned out. I love the blue and how unique each one of them looks, even though they are all blue.
I made sure to not have any nail polish close to where you'd put your mouth to take a sip, so there is no concern there.
And these are the gray mugs with white nail polish. Aren't they so so cool?? I just love the look and they remind me a bit of Halloween and spider webs, haha.
To join next month's #pinterestchallenge, click here to sign-up ⇒ August Pinterest Challenge.
---
Now let's see what other things Pinterest inspired! Head over and visit the other hosts to see what they crafted, cooked, built, or tried!
Erlene – My Pinterventures • Jenny –Cookies Coffee and Crafts
Debbee – Debbee's Buzz • Laurie – My Husband Has Too Many Hobbies
Bri – Halfpint Design • Julie – Sum of their Stories  • T'onna – Sew Crafty Crochet
Beverly – Across the Boulevard • Debra – Shoppe No. 5
Roseann – This Autoimmune Life • Terri – Our Good Life
Chelc – Inside The Fox Den • Cherryl – Farm Girl Reformed
Leslie – Once Upon a Time & Happily Ever After • Katrin – Kreativ K
Kelley – Simply Inspired Meals • Joanne – Our Unschooling Journey
Toni – Small Home Soul • Gail – Purple Hues and Me
Rebecca – Hello Central Avenue • Gwen – Geez, Gwen!
Marie –DIY Adulation• Habiba – Craftify My Love
Kristie – Teadoddles • Marie – The Inspiration Vault
Lydia – Lydia's Flexitarian Kitchen • Maria – Simple Nature Decor
Michelle – Our Crafty Mom • Emily – Domestic Deadline
Alexandra – Eye Love Knots • Sam – Raggedy Bits